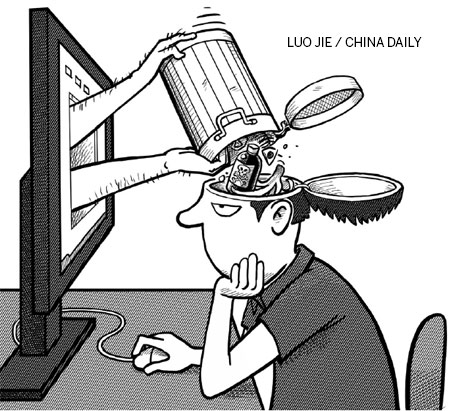 The hunting and shooting down of serial killer Zhou Kehua on Aug 14 have given rise to all kinds of rumors. As usual, the rumors and the subsequent debate have become the realm of netizens.
But now it seems some netizens criticize a person or an entity just for the sake of criticizing.
One rumor doing the rounds is that "Zhou is still at large" and the person (mistakenly) killed on Aug 14 was Duan Zhipeng, a Hunan police officer. The rumor has persisted even after Duan told Hunan TV station on Aug 20: "This is ridiculous, because I didn't have anything to do with the killer (Zhou)".
But the farce continued. Alleged photographs of Zhou's body were posted on even some prominent news portals on Aug 21, only to be proved the next day that they were unidentified photographs from an unknown micro blog. This should be a lesson for the websites to stop posting uncertified information on the Internet.
The "Zhou-is-still-alive" rumor emerged from netizens' so-called analyses of the photographs of the body and the shooting site, which police released. Some netizens even used this opportunity to slander Chongqing municipality police by posting misleading and biased contents against them on the Internet.
People do have the right to question police officers. And police, in this case, should have responded correctly by answering the questions more directly. The persisting doubts over the incident show how important it is for the authorities to win total public trust, though the standard practice is not to reveal every detail of serious crimes to avoid botching up an investigation or allowing vested interests from exploiting the situation.
Also, the police force should be more disciplined and strict, and take measures to wipe off the stains of the scandals and crimes some of its officers have been involved in.
Some netizens have questioned Zhou's death simply because "this cunning and cold-blooded killer had killed 10 people in eight years and succeeded in foiling earlier police' attempts to nab him". Their question seems to be: So how could he be shot dead so easily this time?
But the hunting down of Zhou was not easy at all. Before he was shot, thousands of policemen were engaged in tracking him down, which lasted several days during which he killed two people in downtown Chongqing. And the skeptic netizens should not forget that Zhu Yanchao, a railway policeman, lost his life while chasing Zhou.
Other netizens have criticized police for being incapable and inefficient. Lest we forget, policemen are human beings like us. True, they should have nabbed the serial killer earlier. But don't they deserve a little respect for trying their best and risking their lives, and losing one of their colleagues? Such baseless criticisms could demoralize policemen and make their job even more hazardous.
https://www.facebook.com/shakodesigns?ref=hl
Without doubt, the 300 policemen, including the two who shot Zhou, deserve every bit of the rewards they were given. Netizens who have ridiculed the rewards saying Zhou's death has brought fortune to many people should learn to appreciate the fact the policemen are willing to risk their lives, and work day and night to hunt down criminals like Zhou so that ordinary people can sleep in peace.
Weird views have been aired ever since the hunt for Zhou began. Some said the serial killer robbed the rich and gave it to the poor. They tried to paint him as a modern-day Robin Hood. Nothing could be farther from the truth.
https://www.facebook.com/shakodesigns?ref=hl
But the rumors and weird views, as well as the criticisms that followed, show Chinese society is becoming increasingly pluralistic, and freedom of speech - a sore point for the West - on the Internet is growing.
Netizens have every right to express their views. But questioning something that is obvious will harm constructive communication. Besides, spreading rumors could encourage criminals like Zhou to go on another killing spree and spread panic among the people. Therefore, netizens, the authorities and the media must beware of their responsibilities while expressing their views